O Sovereign God and Father of our Lord Jesus Christ, as Your church gathers globally on this Lord's day, we remain grateful to call You Father. And we gather knowing that our freedom is in the certainty of Christ's redemption. Father, give us help.
And because of Him, we can boldly approach Your heavenly throne of grace to cry out to You for help. And we want to cry out to You for help now in our nation's time of need.
God, Father, give us help.
Father, we are grateful that we are a nation of nations. There is so much potential in the United States. And there is so much pain.
Please give comfort, Lord, please give comfort to the ethnically diverse people in our nation who feel fear. There are especially black and brown image-bearers in our country who are currently experiencing anxiety and pain because of our nation's state of race relations. Many black and brown image-bearers are afraid, afraid to jog, walk at night, and live as ordinary citizens because of the color of their skin. Or because of the fear of gun violence or other forms of violence, or because of drug activity in their communities.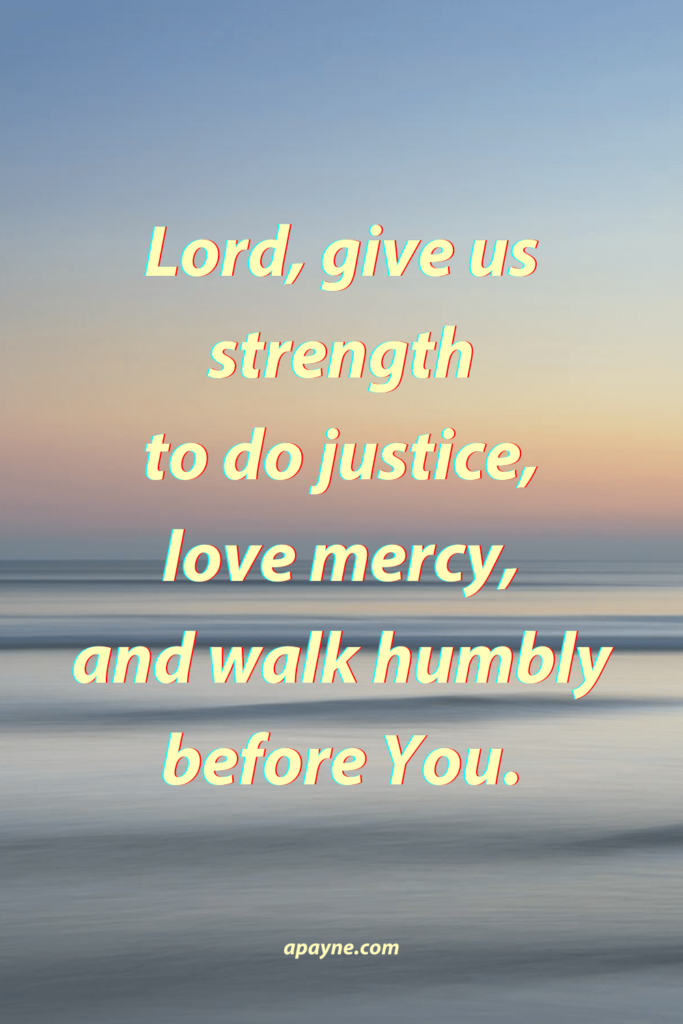 Father, please help Your black and brown image-bearers be able to live without unnecessary fear. Please protect the children.
Too many lives have been lost.
Father, please, may all people in our nation truly believe that Black Lives have dignity and value just as non-black lives have dignity and value.
Father, You created all humans in Your image.
And Father, we thank You, and we pray for the many good and ethnically diverse law enforcement officers in our nation who faithfully serve and protect their communities. We pray that You would keep them safe and faithful as they work to protect and serve our communities.
Father, please, supernaturally work in every aspect of our country, in our neighborhoods, schools, organizations, institutions, and churches, to eradicate individual and corporate ethnic partiality.
We plead for vetted and qualified leaders in both public and private sectors, in business and state, and your church.
We plead with the prophet Micah, give us the strength to do justice, love mercy, and walk humbly before you.
We plead with the prophet Isaiah, give us the strength to cease evil, learn good, seek justice, correct oppression, bring justice to the fatherless, and plead the widow's cause.
We plead with the prophet Amos, let justice roll down like waters and righteousness like an ever-flowing stream.
Father, we pray that You give repentance to all in our nation today so that they would turn from sin and to Jesus. Help them place their personal faith in our Savior's wrath-bearing, cosmic-renewing reconciling, accomplishing death, and victorious resurrection.
May many in our nation love You, Your Christ, and Your word and walk in step with Your Spirit.
Father, please, give trust to our nation where we need trust, give peace to our nation where we need peace. Give racial justice where there is racial injustice. Give restoration where we need restoration. Give reconciliation where we need reconciliation; give forgiveness where we need forgiveness.
And oh, how we need forgiveness.
Father, You owe our nation nothing. We owe You everything. And still, we beg You, Holy Father, please give a spiritual awakening to our nation. Would you please eradicate this virus?
Finally, Father, please, work in this country to accomplish Your good, pleasing, and perfect will so that Your kingdom in heaven may be accomplished on earth.
Father, when You send Your son to renew the heavens and earth into the new heavens and the new earth, may You find us faithful.
I pray all of this in Jesus' crucified, resurrected, and glorified name. Amen.
July 5th A prayer of dependence for Independence Day, Windsor Road Christian Church. Matt 6:11 give us this day our daily bread Watch the full video