Why Finish is my theme this year
Years ago, I used the theme "Finish" to finish all the many tasks and projects I had started. It was a little daunting. I changed the blogs and topics, created books, readied books for publishing, and dealt with my hacked sites. As in, shut down!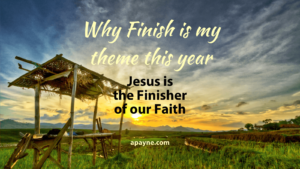 That was in 2015, and I had just finished changing about everything in my life. My first grandchild was born, and my husband started a new job two and a half hours away. Meanwhile, we remodeled our home for nearly 20 years, sorted, tossed, packed, and stored our belongings. We sold the house and made plans for the two children living with me (both young adults). They moved to a hotel while they looked for a new place, and I moved to the apartment where my husband was living. I needed to find a new home too.
Jesus is the Finisher of our Faith
So, I began looking at homes. I loved my realtor. She was so helpful and tried so hard. I felt like one of those fussy customers on the house hunting HG shows. I had no idea what I wanted, and my budget was too low.
Meanwhile, my kids found a new home an hour south, and we proceeded with the paperwork. My new grandson went back into the NICU hospital, and I began to drive to Pasadena every other day. When the baby finally came home, I was there even more.
My day job was overwhelming me with projects and moving distributor websites. I thought we had just moved to a new shopping cart, and now this. So I filled my hours with spreadsheets and data conversion. Those hours I wasn't doing realtor shopping, filling out papers, and driving to my daughter.
Finally, one day my realtor, poor thing, took me by a house coming on the market soon. They had just signed a contract with the sellers. She drove me to the house, and I knew that was the one. It looked like home. She was understandably worried I wouldn't like it. I hadn't liked any of the over 30 houses we looked at in the past weeks. But I just knew.
We finally closed on both houses within days of each other. I drove down to help the kids move into their new condo. It was exhausting, but we were all glad to have it settled. But our house would need remodeling to get it ready for us. Nearly thirty days later, we finally moved into our new home with a gorgeous view in the backyard and room to roam inside at the end of May.
When life seems overwhelming, I sit down and pray.
So, sitting down with the new laptop I'd purchased for my new home office in the kitchen's dining area, I met with exciting news. I had time to work on my projects. Except for visiting my grandson and my day job projects, I could spend about 20 hours a week writing, editing, and publishing.
So I began updating the Driving with Anna devotionals, editing the Planted Flowers series, and publishing the Be Strong and Courageous devotional. I concentrated on finishing things and learned to say no (it's been a slow battle).
Soon the year was over, and I faced another round of challenges. I even fell into a deep depression because I couldn't say no. I didn't feel like I could express my opinion or stand up for myself. But that's another story.
Finish is my theme this year
This year I am finishing my projects. I've started a series of Daily Prayer Guide books, Affirmation Journals (and goals) books, and much more.
When I looked at Finish's topic, I wanted to know who Jesus is and who I am in Christ. So those are the topics. Faithful, Image of God, Nurturer, Immovable, Saved, Hopeful. This is who I am in Christ Jesus.
To download the latest Daily Prayer Guide – Finish – Join the AP Creations Courses and add the Freebie Course. It contains free Daily Prayer Guides, Verse Calendars, and free ebooks.
To see the latest books, click here.