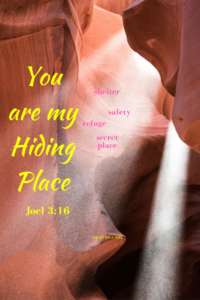 There is no other God than my God. He is greater than any other God. No one is like Him. He is my hiding place, my place of safety, my Great God whom I love.
He is my hiding place.
In the Psalms, David declares God as his hiding place. He hid from Saul and felt betrayed. "You are my hiding place." Other places in the scriptures call Him shelter, a refuge, a secret place, and a place of safety. Do you feel betrayed? Seek God's presence and know that He is with you right now. He is beside you.
How safe do we feel in our hiding place? "You envelope me in songs that remind me I'm free." Psalm 32:7 Surrounded by praise music, tears streaming down my face in relief, I am safely in God's arms. I hear the music playing in my heart as I face the world. Your presence goes with me, even into the storms of life. You hold my hand and walk with me. Thank you for guiding my steps.
I am safe in God's arms!
God keeps me safe in His arms. I can rely on Him to guide me through each day. Laying down at night, I am in peace. My sleep is sweet. Even when the world swirls around me, chaos at every turn, I can look to my God and rest in His arms.
In Him, I am Safe, Lord, You are my hiding place
There is more! This hidden place:
keeps me from trouble, and I know for sure You are my God.
I find peace in the middle of the storms of life.
Is high up with God, safe from the chaos.
provides my shield of protection; it gives me hope.
Joel 3:16 The Eternal roars from Zion; His voice thunders from Jerusalem. The earth and the heavens tremble before Him. But the Eternal is a hiding place for His people, a fortress for the Israelites.
Lord, protect me today and walk with me through the storms. You are my place of safety. Thank you for hiding me in Your hands. Give me sweet peace today.
---